Welcome to Global Psychedelia, another two hours psychedelic music from around the world.  Live on the air at WEFT 90.1 FM, independent radio for East-Central Illinois, and streaming live at weft.org.  I'm your host The New Elastic Infinite, and today's show is Psychedelic Space Musics.  There's so much great space inspired music and psychedelic space rock that I'm doing two weeks in a row, so tune in and lift off! Sun Ra – Concert for the Comet Kohoutek – Space Is the Place In my opinion, you can't have a space music show without at least one Sun Ra song.  Although I'll only play a sample from this version of the song on the radio, I recommend you watch the movie Space Is the Place, starring Sun Ra and his Arkestra–and listen to a lot of Sun Ra!  Next week I'll be playing two full tracks of Sun Ra from this very album!
Hawkwind – In Search of Space – Silver Machine Just as a playlist of space music would be incomplete without Sun Ra, so a playlist of space rock without Hawkwind is unthinkable! Although they're still playing touring and recording new albums, I feel their sound (and the original band) began to disintegrate with the 1975 album Warrior on the Edge of Time.  I'm not a Hawkwind purist, so I'll go ahead and say that the first 5 albums and later released live albums from this time period (1970-1975) are their best.  Silver Machine is the quintessential Space Rock song from the quintessential Space Rock band.
The Flaming Lips – The Flaming Lips with Lightning Bolt (EP) – I'm Working at NASA on Acid Out of all the amazing EPs and collaborations The Flaming Lips did in 2011 (a total of nine!), this wins second place for my taste.  I was a fan of Lightning Bolt before I started to dig The Flaming Lips, if you can believe that, but by the time this came out I was deep into both of the bands.  Although the song "I Want to Get High, But I Don't Want Brain Damage" is a super let down, the rest of the EP makes it worth buying (even digitally, since you might not be able to find it physically these days).  Track one = the best track.
Pyramidal – Dawn in Space – Intronauts Hailing from Alecante, Spain, these neo-psych space rockers just put out their third album.  I saw an interview with them on youtube, where they note as an influence the German "Krautrock" band Agitation Free.  That's what made me want to give their music a listen.  Some of it borders on the cheesy, but then a lot of neo-psychedelia does.  It's kind of charming.
Tim Buckley – starsailor – Starsailor I know, you look at this album cover and say, "no way that's psychedelic."  Or maybe you know of Tim Buckley and you're thinking, "Blue-Eyed Soul?  Categorically not cool."  But if you haven't listened to starsailor, you're missing out on some great psychedelic music from an amazing singer, and on the eponymous track, some great weird space music.
Acid Mothers Temple & The Melting Paraiso UFO – Crystal Rainbow Pyramid Under the Stars – Pussy Head Man From Outer Space One of the many face(t)s of Acid Mothers Temple, AMT & the Melting Paraiso U.F.O. is the main collective, with an amazing 47 studio albums to their name (and this is not including live, and other projects such as Acid Mothers Afrirampo, Acid Mothers Temple and the Cosmic Inferno, Acid Mothers GuruGuru, etc.).  Why this song then, among all the others I had to choose from?  I feel like this has that transcendent edge from both Kawabata Makoto and Higashi Hiroshi.  Don't get me wrong, there's no lack of astral transcendence on the other albums, but the g-force on this is enough to rip your face off before you even reach the stratosphere.
Eternal Tapestry – Beyond the 4th Door – Galactic Derelict After listening to Eternal Tapestry's 2012 album Dawn In Two Dimensions, I wasn't expecting the sound of this, their 2011 fourth album.  It's slightly more ambient, and perhaps more technically nuanced.  Both albums are excellent, and deserve to be played on more than one show.  So I'll do that, and you can decide which you prefer!
Ben Frost – A U R O R A – Diphenyl Oxalate What is Diphenyl Oxalate you might ask?  Wikipedia has this to say: "Diphenyl oxalate is a solid ester whose oxidation products are responsible for the chemiluminescence in a glowstick."  The better question is "who is Ben Frost, and why haven't I heard of him until now?"
Felipe Arcazas – Felipe Arcazas & Vintage Cucumber – Carl Sagan Felipe Arcazas from São Paulo, Brazil teams up Vintage Cucumber from Templin, Germany for this amazing psychedelic rock excursion into the depths of outer space.  Check them both out on their bandcamp pages, and get most of the music for free.  Both are super unique and wonderful.
Atomic Simao – Nōdo – Do What You Do This Space Rock band from Kiev, Ukraine released their first studio album "Nōdo" in 2012 and have just release a new album, "Sphyro" which sees the addition of a new member and new instrumentation, including a saxophone!  Both albums are available for your generous donation or free (name your own price) at band camp.  Both links above will lead you through space to great space music.
Circulatory System – Circulatory System – The Lovely Universe Circulatory System was part of the Elephant Six Collective of musicians, which I won't go into here (psych-heads, you should already know, but check the link if you don't).  Neutral Milk Hotel's brainchild Jeff Mangum (who we played on the last show) is credited on some of the first albums, this one, their first, included.  A great, sun-shiny psych-dada-pop amalgamation!
The Cosmic Dead – Inner Sanctum – Gustav Björnstrand Ah, the Cosmic Dead.  Not playing in an independent Scotland, unfortunately, but still rocking in the U.K., these space rockers ride the fine line between cheesy neo-psychedelic space rock and genuine interstellar transcendence.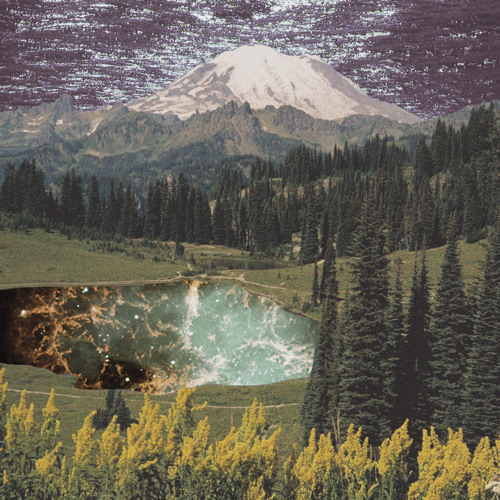 Ramases – Space Hymns – Earth-People See the link to the Psychedelic Folk playlist for a little history about this husband and wife duo.  Long story short, the fantastic lyrics to these tracks are not an attempt to be whimsical and/or psychedelic; they're meant to teach you the gospel of Ramases incarnated.  Tune in, and lift off!
F/i – Paradise Out Here – From Poppy With Love progarchives.com has a great timeline and band line-up of F/i, a space rock/psychedelic rock/electronica band from Wisconsin that continues to be underrated and/or unheard.  Please, listen.  They are prolific!  Playing since 1981, the band has gone through a few personnel changes, and have diversified their sound from harsh-ish noise/electronica with drum machines to a more psychedelic space rock sound with multiple guitars.  Listen. yumymymymyjum.
Sylvester Anfang II – Commune Cassetten – Damia(a)n This group is awesome.  Like, really really, really awesome.  They are noisy, necessarily loud while allowing for timely quietude, always free improvisational, never cheesy, dark, grotesque in their excess, and borderline Jandek on their Latitudes album = one of my favorite new bands. Discogs.com has this to say about Sylvester Anfang II: "Rooted in the Belgian "Funeral Folk collective" Silvester Anfang, the similarly named Sylvester Anfang II got the idea for their split-off group from Amon Düül II. This new combo of largely un-named musicians tend to record everything as free-form jams, all in the spirit of their Krautrock mentors, compared to Man, The Grateful Dead and Swedish acts like Harvester, et al."
The Cosmic Jokers – The Cosmic Jokers – Galactic Joke (b) This isn't really a band.  This was a jam session staged by Rolf-Ulrich Kaiser and Gille Lettman at consecutive "acid parties" in early 1973.  These were fruitful sessions that turned into three full albums of music that were all released in 1974.  Amazing music.  Despite the message this sends, I think it is a rarity that an acid party produce and sustain such great music.  Usually you get some crazy awful shit that requires extensive editing or throwing away.  These recordings speak volumes to the musicianship of the players involved, which included:  Manuel Göttsching and Klaus Schulze of Ash Ra Tempel, Jurgen Dollase and Harold Grosskopf of Wallenstein, and Dieter Dierks.
Vibracathedral Orchestra – Joka Baya – A Mirrored Pyramid (For JS) This dynamic psych band from Leeds, West Yorkshire, England has been tagged as a "drone ensemble," but I think they're either doing something else, or their doing drone wrong.  Whatever it is, their doing it right!
Øresund Space Collective – Inside Your Head – Aqueduct of Sylvius A collective style group of musicians spanning multiple countries around Europe and the Near East, the Ørsund Space Collective plays free improvisational space rock really well.  They are also prolific, so check out the many discs they have to offer at the link above.  I'll be playing more of these psychedelic rockers on a future show of psychedelic music collectives. Stay tuned.